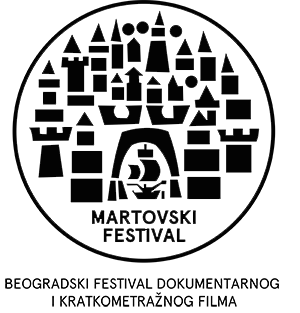 Experimental film and video art selection
Musical Runaways
/ 10′ 36″
Directed by: Miloš Tomić
Produced by: Miloš Tomić, Jakub Felcman
Cast: Dren Tomić, Miloš Tomić
A series of surreal, poetic and goofy scenes display the relationship and an attempt to communicate between a middle-aged father and his son, who will soon become a man. Everyone lives with their obsession: boy crazed with tablet games, father in his noisy music fantasies.
*World premiere
---
Hackteria
/ 11′ 40″
Production company: Ground
Directed by: Izvanredni Bob
Produced by: Andrija Lučić
Robo the samurai experiences satori in tech-noire skeuomorphism
.
---
Komunikacija

2019. / 4' 50''
Produkcijska kuća: Dom kulture "Studentski grad" – Akademski filmski centar
Režija: Saša Petrović
Produkcija: Ivan Velisavljević
Parafraza filma Karla Teodora Drajera "Stradanje Jovanke Orleanke". Citiranjem međunatpisa i repliciranjem kadrova u novom kontekstu uspostavlja se odnos između dva istorijska vremena. Otvaraju se pitanja uloge individue u istoriji, načina na koji ona u specifičnom istorijskom kontekstu postaje vodilja celoj zajednici, društvene dinamike uključivanja u zajednicu i isključivanja iz nje, i to u najdrastičnijoj formi.
*Svetska premijera
---
Parallel Streams 
/ 9′ 30″
Production company: Verige
Directed and produced by: Luka Papić
When you follow the streams of thought, the streams of the Internet and the streams of history, you wind up in parallel dimensions – the grey zones of reality. Grey zone expeditions are always personal, their results are not always poetic, inspirational, or beautiful. Often you find banalities turning into mysteries, turning into banalities again.
---
images of the mystical symposion
/ 5′ 25″
Production company: Independent Film Center Vorky Team and Student's City Cultural Center – Academic Cinema Club
Directed by: Milan Milosavljević
Produced by: Dragan Cakić
During the Cold War, on the eve of a nuclear threat, when the children would go to sleep, the adults would start playing their games in the "Swinging Sixties"…
*World premiere
---
Láttam / I Saw
/20′ 10″
Production company: Cinema Film Workshop
Directed and produced by: Zoltan Bicksei
Cast: Nándor Szilágyi, Gábor Bagi, István Berecz, Rolland Resócki, Elizabetta Bicskei
Life-summarising "vision" of a blind person in a desolate open space. A blind person staggers into the emptiness of the deserted summer field. The Blind touches, senses light with his palms and face, his imagination and beliefs – it is not just a frame play, but a terse summary of the innerly experienced external world. The film is polyphonically interspersed with events touched, held, trampled by the Blind, witnessed by grass, dry stalks and nest. So, many tiny Paradises, with people emerging from them, fighting a fatal duel. Slaying and rebirth keep swirling like a whirlwind, masked dissembling figures dancing, their long steps and majestic motionlessness follow in front of the Blind's eyes… 
*Serbian premiere
---
Vivid Red
/ 9′ 37″
Production company: Sivo Drvo Film
Directed and produced by: Svetislav Dragomirović
Cast: Marina Gunjača,Tanasije Ruzmarin Stojić, Ružica Živković
The afterlife journey of Cherokee, the racing horse.