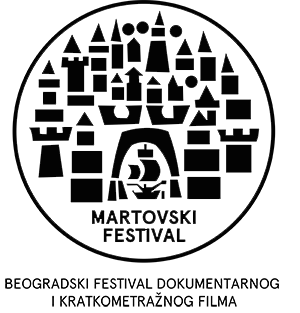 68. MARTOVSKI FESTIVAL – Experimental film and video art selection
Red if you did not exist we would have to invent you
/ 8' 09'' 
Directed by: Milica Rakić
Experimental film by visual artist Milica Rakić focuses on women's emancipation in post-war Yugoslavia and on the critique of patriarchal coded interpretations and codes of ideology – in the historical and modern context. The observations of the artist's alter ego, comrade Rakič, performed in tandem with art historian and performer Vladimir Bjeličić, are contrasted with archival footage of the activities of the Anti-Fascist Women's Front.
*World premiere
---
Home
/ 4' 38'' 
Serbia, Germany
Directed by: Tanja Brzaković
Produced by: Jelena Bosanac
Cast: Jelena Bosanac
Text: Milkica Stanković
Music: Miša Cvijović
Production company: Filmkraftwerk
A view from the window wanders long in search of meaning. During the quarantine days, there seems to be a universal feeling – the search for meaning. A meaning that may be in a memory. A memory of a home, from a new home, at the moment when the world is at a standstill… Or maybe it is moving violently? Traveling home.
*World festival premiere
---
Live a Crazy Life
/ 3' 31'' 
Directed and produced by: Marina Ilić
The video work illustrates the meaning of the modern way of life through mice in a confined space filled with cash receipts. The behavior of the mice is not predictable, but the camera captures some of the main activities of life – sleeping, feeding, their mutual communication and attempts to get out of that space. A simplified symbolic representation of unconscious human behavior is placed in relation to the environment of cash receipts, representing coded daily activities, clearly showing the habits and way of life of the individual and the community. Confined mice run in circles while receipts slowly bury them…
*World premiere
---
A record of landscape without prehistory
/ 14' 22'' 
Serbia, Croatia
Directed by: Doplgenger
Produced by: Milan Milosavljević
Production company: Akademski filmski centar Dom kulture "Studenstki grad"
A visual story about the experience of forgetting, based on a poem by Oskar Davičo.
*Serbian premiere
---
Tesaurus
/ 26'  
Directed by: Marko Grba Singh
Produced by: Ana Radulet, Stefan Ivančić, Dragana Jovović, Ognjen Glavonić
Cast: Tesa, Cristi Calinescu, Simona Mantarlian
Production company: Non-Aligned films
Tesa is an ordinary house dog, living with her owner Cristi. One day, she will disappear and start projecting images and thoughts of her own.
*Serbian premiere
---
The Hug of Skin
/ 6' 25'' 
Directed by: Ivana Kosanović
Produced by: Svetlana Popović, Zoran Popović
Production company: Centar za vizuelne komunikacije Kvadrat
Performance of ritual immersion, purification and mystical confluence. The simulacrum of calm water. Paradoxically grotesque deconstruction and glorification of a typical female fetish. Catharsis in the embrace of longing and despair.
---
Together apart
/ 11' 15'' 
Directed by: Neda Kovinić
Produced by: Zorana Đaković
Cast: Joana Knežević, Vladimir Čubrilo, Ana Obradović, Đorđe Galić, Olga Uzikaeva, Isidora Poledica, Nemanja Bošković, Katarina Orlandić, Aleksandar Isailović, Rade Obradović
Production company: Kulturni centar Beograda
A group of dancers tries to do a performance on the street (2020) in an environment of constant changes of pandemic measures. How can dance, theater, social life be possible when social distance has become the ultimate performance?
*World premiere