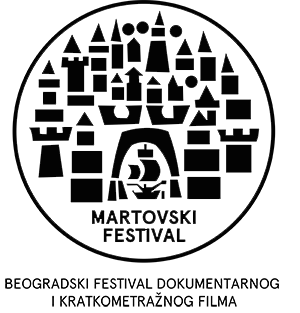 68. MARTOVSKI FESTIVAL – National Short film selection
Days Lost
/ 22' 19''
Directed by: Jovana Avramović
Produced by: Aleksa Borković
Cast: Jana Bjelica, Jovan Jovanović, Sunčica Milanović
Production company: Fakultet dramskih umetnosti, Beograd
Olja, a grumpy eighteen-year-old, lives in a dysfunctional family. When her brother's girlfriend comes to visit, Olja faces the loss of the only person she cares about. Mad at everyone around her, she is trapped in a place where she can see no way out.
*Serbian premiere
---
How I beat glue and bronze
/ 30' 42''
Serbia, Germany
Directed by: Vladimir Vulević
Produced by: Srđa Vučo
Cast: Hasan Čičić, Rasim Ćelamehmetović, Iva Bjelić, Saša Bjelić, Dragana Vidaković, Dragana Lalović
Production company: Ranč Production
People from his closest surroundings tell us about the life of the factory worker Mihajlo who comes from a devastated small town. An old neighbor to whom he takes the newspaper every morning, a sister he helps financially for years, a cafe owner whose tavern Mihajlo and his fellow workers spend afternoons and evenings. They don't know that Mihajlo obsessively steals tools from the factory, that he suffers because of lost love and what he is about to do one morning.
---
Dog and the Wind
/ 26' 39''
Directed by: Jovana Marković
Produced by: Luka Đokić
Cast: Jovana Gavrilović, Mladen Sovilj
Production company: Fakultet za medije i komunikacije
On the night before leaving the country, Zoja goes to a gig and meets Luka. After an evening spent with him, leaving in the morning no longer seems like an easy decision.
*World premiere
---
Gathering
/ 14' 23''
Directed and produced by: Marko Pejović
Cast: Jovana Rakić, Stojan Simić, Andrej Malešević, Branka Baretić Milenković, Nenad Novaković, Predrag Kotur, Vera Jovanović, Isidora Bojić
Production company: Grupa "Hajde da"
The film explores a young woman's crisis, who no longer finds meaning in the middle-class lifestyle. The crisis of capitalism and the concept of freedom is reflected through the relationship with her partner (a deaf person), triggering various emotions and needs (appearing in the film as different characters). As the story develops, we become more and more drawn into the inner reality of the characters.
*World premiere
---
Liberated
/ 17' 21''
Directed by: Miroslav Savić
Produced by: Branko Perišić
Cast: Branko Perišić
Production company: Fakultet dramskih umetnosti, Beograd
In the intimate surroundings of an abandoned lowland estate, a demilitarized soldier faces the post-war beginnings and the burden of a traumatic past.
*World premiere
---
Everything in its Right Place
/ 21' 59''
Directed by: Nikola Stojanović
Produced by: Tijana Savić, Nikola Stojanović, Mladen Teofilović, Nađa Petrović
Cast: Jelena Stupljanin, Anita Ognjanović, Zlatan Vidović
Production company: Fakultet dramskih umetnosti, Beograd
Jovana, a single mother, wants to spend her birthday with her daughter Sara, but when Sara invites her father to the celebration, Jovana's plans are ruined
*Serbian premiere